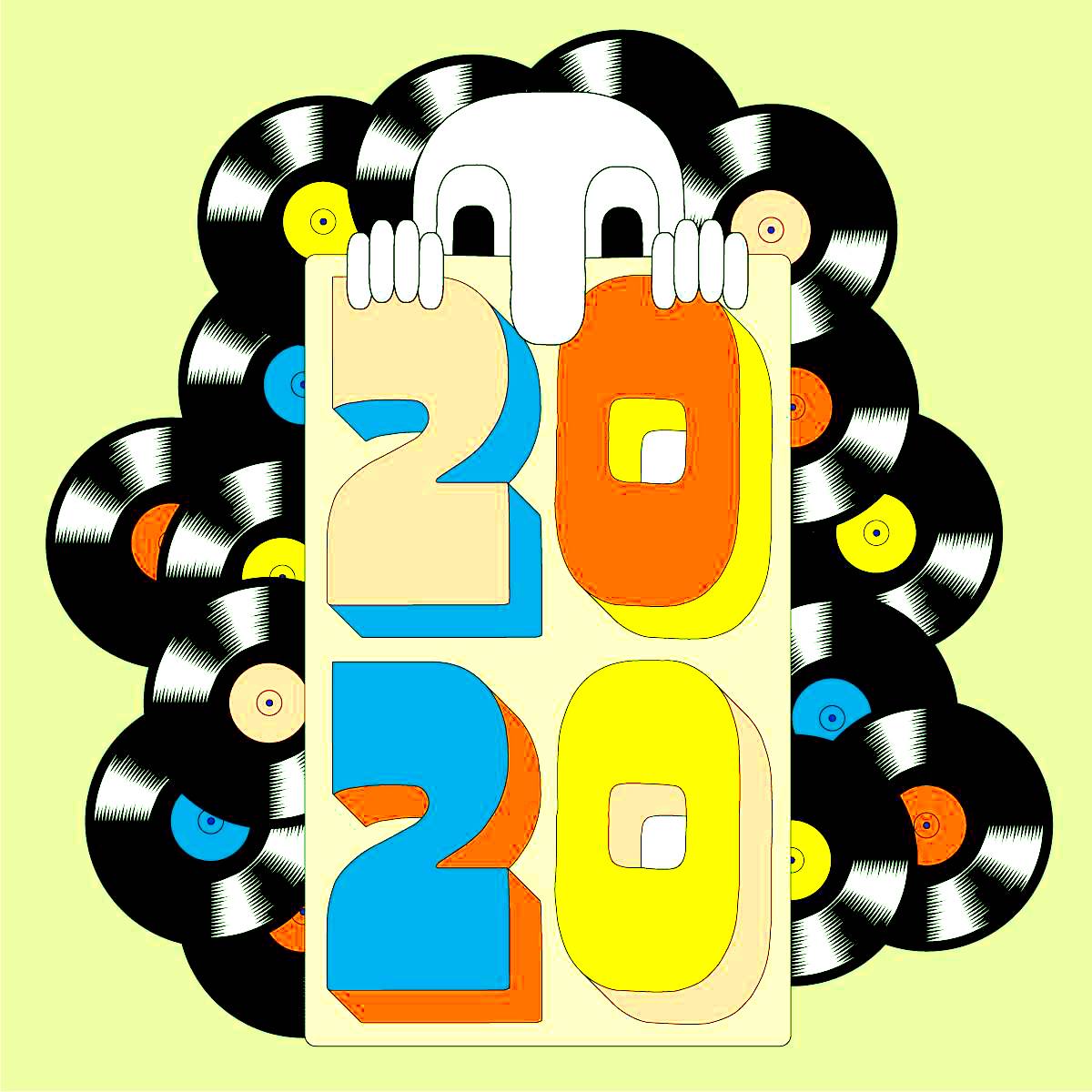 Pour clore dignement cette effusion de classements tous azimuts, voici celui des disquaires indépendants, que nous avions célébré ces dernières semaines dans notre série Première Nécessité. Histoire de célébrer une fois encore ces vaillantes échoppes sans qui nous ne serions rien, voici leurs disques préférés de cette année cauchemardesque.
Toma / Balades Sonores (Paris)
LP
Kelly Lee Owens, Inner Song (Smalltown Supersound)
Adrianne Lenker, Songs & Instrumentals (4AD )
Charlène Darling, Saint-Guidon (L'Amour Aux 1000 Parfums)
Idles, Ultra Mono (Partisan Records )
The Cool Greenhouse, The Cool Greenhouse (Melodic)
This Is the Kit, Off Off On (Rough Trade)
Fiona Apple, Fetch the Bolt Cutters (Epic)
Arca, Kick I (XL recordings)
Alabaster DePlume To Cy & Lee, Instrumentals Vol. 1 (International Anthem)
Various, Pacific Breeze 2 : Japanese City Pop, AOR & Boogie 1972-1986 (Light In The Attic Records)
NDLR : Les Balades Sonores réouvrent mercredi 30 décembre !
---
Fred / Pop Culture Shop (Paris)
LP
1. Jeff Parker & The New Breed,  Suite For Max Brown (International Anthem)
2. Arv & Miljö, Himmelsvind (Discreet Music)
3. Sonic Boom, All Things Being Equal (Carpark)
4. Chicago Underground Quartet, Good Days (Astral Spirits)
5. Naked Roommate, Do The Duvet (Upset The Rhythm / Trouble In Mind)
6. Eiko Ishibashi, Hyakki Yagyo (Black Sweat)
7. Sweeping Promises, Hunger For A Way Out (Feel It)
8. The Dead C, Unknowns (Ba Da Bing!)
9. The Reds, Pinks And Purples, You Might Be Happy Someday (Tough Love)
10. Rob Mazurek Exploding Star Orchestra, Dimensional Stardust (International Stardust)
Rééditions / compilations / anthologies

1. Dadamah, This Is Not A Dream (Grapefruit)
2. Sun Ra, Egypt 1971 (Strut / Art Yard)
3. Flaming Tunes, s/t (Superior Viaduct)
4. Lee Scratch Perry, Seskain Molenga & Kalo Kawongolo, Roots From The Congo (Roots Vibration / Planet Ilunga)
5. East Village, Hot Rod Hotel (Slumberland)
6. Pylon, Pylon Box (New West)
7. Robert Ashley, Automatic Writing (Lovely Music)
8. White Heaven, Out (Black Editions)
9. Don Cherry, Om Shanti Om (Black Sweat)
10. The Prats, Way Up High (One Little Independent)
A relire : Première nécessité / Pop Culture
Lionel / Transat (Poitiers)
LP
1. Sonic Boom, All Things Being Equal (Carpak)
2. Bad Nerves, Bad Nerves (Suburban)
3. Lewsberg, In This House (Lewsberg)
4. NON, Blast Of Silence (Mute)
5. Will Guthrie, Nist-Nah (Black Truffle)
6. Special Interest, The Passion Of (Nightschool)
7. Shy Boys, Talk Loud (Polyvinyl)
8. The Damned, The Rockfield Files (Spinefarm)
9. Le Villejuif Underground, Ghost Of The Water/Les Huîtres A Cancale 7″ (Born Bad)
10.  Nouveaux Climats, Nouveaux Climats 7″ (Nouveaux Climats)
A relire : Première nécessité / Transat
Nicolas / Musicfearsatan (Paris)
LP
1. Nothing, The Great Dismal (Relapse Records)
2. Steeve Moore, vfw (OST) (Lakeshore Records)
3. Today Is The Day, No Good To Anyone (BMG)
4. Offermose, Stilhedens Tarn (Third Coming Records/Pomperipossa Records)
5. Atavist III, Absolution (Candlelight Records)
6. Pointe du Lac LP2 (Alpage Records)
7. Xibalba, Anos En Infierno (Southern Lord Recordings)
8. V/A What is this that stands before me, Tribute to Black Sabbath (Sacred Bones Records)
9. IIVII, Grinding Teeth/Zero Sleep (Consouling Sounds)
10. La Chasse, Sidera (poutrage records)
Reno & Christophe / Bad Seeds (Brest)
LP
1. Rob Mazurek, Dimensional Stardust (International Anthem)
2. Melenas, Días Raros (Trouble In Mind)
3. Rafael Anton Irisarri, Peripeteia (Dais)
4. Trees Speak, Ohms (Soul Jazz)
5. Will Guthrie, Nist-Nah (Black Truffle)
6. Keeley Forsyth, Debris (Leaf)
7. Aoife Nessa Frances, Land of No Junction (Basin Rock)
8. Westerman, Your Hero Is Not Dead (Mute)
9. William Basinski, Lamentations (Temporary Residence Ltd.)
10. Manonmars, In Colour (Young Echo)
A relire : Première nécessité / Bad Seeds
David / Locked Grooves (Strasbourg)
1. Simon Moncler, Data Streams EP (OCP)
2. Sansibar, Targeted Individuals (Darknet)
3. Function, Subject F (Transcendence) (Eaux)
4. Magou, 3 Essays In Dance Music (Magou)
5. De Ambassade, Standhouden (Knekelhuis)
6. Diana Berti, The Hand That Seeds Death – Part I (Veleno Viola)
7. DJ Metatron, Loops Of Infinity (A Rave Loveletter) (All Possible Worlds)
8. Die Gestalten, Widerstand (Die Gestalten Records)
9. The Phantasy, Ibiza Pt.II (The Phantasy)
10. Teslasonic, BAR05 (Bar records)
A relire : Première nécessité / Locked Grooves
Yves / Hands & Arms (Paris)
LP
1. Jetstream Pony, Jetstream Pony Shelflife Records (Kleine Untergrund Schallplatten)
2. Nadia Reid, Out Of My Province (Spacebomb Records)
3. Holy Motors, Horse Wharf (Cat Records)
4. The Luxembourg Signal, The Long Now Spinout Nuggets (Shelflife Records)
5. Gia Margaret, Mia Gargaret (Dalliance Recordings)
6. Kate Davis, Trophy (Solitaire Recordings)
7. Tapeworms, Funtastic (Cranes Records, Howlin' Banana Records, Coypu Records)
8. Malena Zavala, La Yarará (Yucatan Records)
9. Dua Lipa, Future Nostalgia (Warner)
10. En Attendant Ana, Juillet (Trouble In Mind)
A relire : Première nécessité / Hands And Arms
Ludo / Rhizome Record Store (Nancy)
LP
1. Anna Von Hausswolff, All thoughts Fly (Southern Lord)
2. Two Fingers, Fight! Fight! Fight! (Nomark)
3. Dengue Dengue Dengue, Fiebre (Naafi)
4. Clipping., Visions of Bodies Being Burned (Sub Pop)
5. Angel Bat Dawid & Tha Brothahood, LIVE (International Anthem Recording Company)
6. Bloto, Erozje (Astmatic)
7. Siti Muharam, Siti of Unguja (Romance Revolution On Zanzibar) (On the Corner)
8. Chapelier Fou, Parallèles + Méridiens (Ici d'Ailleurs)
9. Geins't Naït & L.Petitgand,  Like This Maybe Or This (Ici d'Ailleurs)
10. Matt Elliott, Farewell To All We Know (Ici d'Ailleurs)
A relire : Première nécessité / Rhizome
Gregoire / Vicious Circle Shop (Toulouse)
LP
1. Dua Lipa, Future Nostalgia
2. A Girl Called Eddy, Been around
3. Nick Cave, L.i.t.t.a.nI.e
4. Protomartyr, Ultimate success today
5. Slift, Ummon
6. Napalm Death, Throes Of Joy In The Jaws Of Defeatism
7. Bob Mould, Blue heart
8. The Avalanches, We Will Always Love You
9. Adianne Lenker, Songs & instruments
10. Michel Cloup, Julien Rufie, Pascla Bouaziz, A la ligne
A relire : Première nécessité / Vicious Circle
Maxime / Born Bad Record Shop (Paris)
(pas de classement hiérarchique)
Spill Gold – S/T (Knekelhuis)
Billy Nomates – S/T (Invada)
Spits – VI (Thriftstore Records)
Working Men's Club – S/T (Heavenly)
Tony Dork – Struggle Street (Legless)
The Chisel – Deconstructive Energy (La Vida Es Un Mus)
Star Feminine Band – S/T (Born Bad Records)
Litige – En Eaux Troubles (Destructure)
Al Qasar – Miraj (Arabian Fuzz)
Lewsberg – In This House (Self-Release)
A relire : Première nécessité / Born Bad
Pierre / Modulor (Paris)
LP
1. Various Artists, Battle Of The Bands Vol. 1 (Wick Records)
2. Kelly Lee Owens, Inner Song (Smalltown Supersound)
3. Tootard, Migrant Birds (Glitterbeat)
4. Sharon Jones And The Dap-Kings, Just Dropped In (To See What Condition My Rendition Was In) (Daptone)
5. Tina, Positive Mental Health Music (Speedy Wunderground)
6. Jack Name, Magic Touch (Mexican Summer)
7. Trans Kabar, Maligasé Extended Paly (Discobole Records)
8. Holy Motors, Horse (Wharf Cat Records)
9. Sage Comme des Sauvages, Luxe Misére (Zamora Label)
10. Dooz Kawa, Nomad's Land (Modulor)
A relire : Première nécessité / Modulor
Simon / La Plaque Tournante (Charleville Mézières)
LP
1. Slift, Ummon (Vicious Circle)
2. Fontaines D.C., A Hero's Death (Partisan Records)
3. Idles, Mono (Partisan Records)
4. Pottery, Welcolme to Bobby's Motel (Partisan Records)
5. Vulfpeck, Live at Madison Square garden (Vulf Record)
6. Trees Speak, Ohms (Soul Jazz Record)
7. Bananagun, The true story of Bananagun (Full Time Hobby)
8. The Chats, High Risk Behaviour (Bargain Bin Record)
9. Flat Worms, Antartica (God?)
10. Clavicule, Garage is dead (Beast Record)
Flo / La Face Cachée (Metz)
LP
1. Ela Minus, Acts Of Rebellion (Domino)
2. Hayiti, Sui Sui (Survival Kit Edition) (Hayati)
3. Liraz, San (Glitterbeat)
4. Bab L'Bluz, Nayda (Real World)
5. Michelle, Heatwave (Transgressive)
6. Nathy Peluso, Calambre (Sony)
7. Kiana Lede,  Kiki (Republic)
8. Simon Waskow, Luz (Death Waltz)
9. Mona Servo, Les Réalités Alternatives (213)
10. Marie Klock, S/t (Les Disques De La Face Cachée)
BONUS
Les Attitudes Spectrales, Vampires In The Summer (Specific Recordings)
A relire : Première nécessité / La Face Cachée